Newnan Pressure Washing Company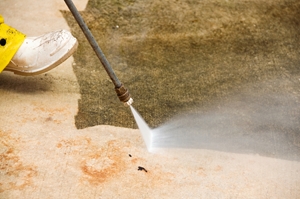 For a clean that's truly clean, choose All Clean Pressure Cleaning Service for your next project involving pressure washing in Newnan, GA. We offer a wide variety of pressure cleaning and softwashing services that including roof cleaning, gutter cleaning, window cleaning, driveway and patio cleaning, fence/deck cleaning, and sealing/cleaning paver stones. With All Clean Pressure Cleaning Service you get the benefit of working with experienced Newnan pressure washing professionals who have performed hundreds of cleaning jobs on all types of surfaces. We use both high power and softwashing in order to match the right method with the right surface. Couple that with our ecofriendly detergents, and you can't go wrong cleaning with our team! No matter what you need cleaned or how dirty it is, our Newnan pressure washing company can restore it back to its natural beauty in no time at all.
Expert Pressure Washing in Newnan for All Surfaces
Homeowners across Newnan choose All Clean Pressure Cleaning Service because our pressure washing company provide dependable work, fast, efficient service and affordable rates that stay within your budget. Our Newnan pressure washing professionals are committed to to providing you with the highest level of customer satisfaction anywhere in the industry. We utilize state of the art technology and eco-friendly solutions that work on any type of surface around your home exterior. You can restore your home, deck, or other surfaces like paver patios in no time at all with our pressure cleaning service. Our house washing service also greatly improves curb appeal. Contact us today and let us help you clean your property by scheduling service for pressure washing in Newnan, GA.
Professional Roof Cleaning in Newnan
All year long your roof takes abuse from mother nature. Rain, sunshine, high winds, debris, mold, algae and other elements bombard your roof and wear out its natural beauty over time. No matter what type of room we can give it a professional washing and make it shine once again. We do tile, asphalt shingles, wood, metal and other types of roofing. No matter what type of roof you have, we have the right method and the right solution in order to clean it without damaging the finish. You get a clean shine in half the time it takes you do it yourself.
Newnan Gutter Cleaning
The gutters on your roof in Newnan, GA are an essential component for protecting your home from rainwater. Gutters are necessary for channeling excess water away from your home an minimize standing water, flooding, and water splashing up against your home exterior. When leaves, branches and other debris gather in your gutters , they block the flow of water and it defeats the purpose of why you have gutters in the first place. But who wants to spend their weekend cleaning gutters in Newnan? Let our pros tackle it for you. All Clean Pressure Cleaning Service offers comprehensive gutter cleaning in Newnan, GA on a routine basis. We can clear your roof of all debris and then clean out your gutters so that the water can properly drain. You'll love the results combining our roof cleaning and gutter cleaning services!
If you are looking for a reliable Newnan pressure washing company then please call 678-877-7440 or complete our online request form.