Atlanta Paver Cleaning Experts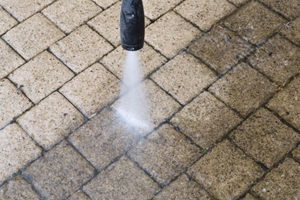 Paver stones provide homeowners with numerous options for designing their yard. From walkways and driveways to patios and walls, there are limitless possibilities for pavers. Once you have your pavers installed in your yard, they require routine maintenance and care which includes both cleaning and sealing your paver stones. At All Clean Pressure Cleaning Service, we offer professional pressure cleaning and re-sealing of all types of pavers for homeowners in the Atlanta area. You can depend on our Georgia certified team of Atlanta paver cleaning and sealing experts to have your pavers cleaned and looking like new once again.
Atlanta Paver Cleaning Services
In order to give your pavers long life for several years, maintenance is vital. Over time, landscape pavers will get dirty from dirt, grime, weeds and mold covering the surface. An All Clean Pressure Cleaning technician can remove weeds and clean the stains to restore the paver surface like new. At All Clean Pressure Cleaning, we specialize in cleaning pavers in Atlanta in order to get them ready to seal for the upcoming season. We utilize the most advanced cleaning and sealing technology that produces amazing results. You'll instantly notice the difference once our Atlanta pressure washing experts are finished.
Environmentally Friendly Solutions
Our Atlanta paver cleaning pros apply eco-friendly cleaners and solutions that will clean away even the most stubborn stains including mold, ground in dirt, oil, and irrigation rust stains, while preserving the natural landscape around you pavers. By using simple hot water, it allows us to clean your pavers without applying the highest pressure level. This eliminates the possibility of damaging the surface Our Georgia certified specialists are caring of your property and will pay attention to every detail. Whether you have brand new pavers or want to revive your old pavers, let our experts provide you with professional paver cleaning in Atlanta to take care of your stone and brick paver surfaces.
Photos of Paver Cleaning in Atlanta
If you are looking for an Atlanta paver cleaning and sealing professional, please call 678-877-7440 or complete our online request form.