Professional Pressure Washing in Newnan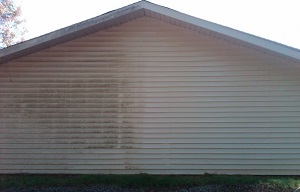 Is the outside of your home in need of a good cleaning? Contact the Newnan pressure washing professionals at All Clean Pressure Cleaning. We make sure that our customers' homes in Newnan and across North Central Georgia shine by the time we're finished with them. Our team of highly-trained experts know how to clean every different type of surface on the outside of your home, and with our state-of-the-art system, can ensure that every surface of your house, no matter how tough or delicate, looks brand new by the time we're finished. Our fully licensed team of experts have the experience and know-how to tackle any pressure washing job in Newnan and deliver the results you're looking for. So if you are ready for the outside of your house to look like it was brand new, give our team of professionals a call today.
A Professional Clean, No Matter the Surface
Not all surfaces are created equal. The techniques used to wash vinyl siding are not going to be the same as the ones used to clean the outside of a brick house. Our team of experts know the specific amount of pressure needed for each different surface to provide a spotless clean without damaging the surface material or the finish of your home. Why entrust the appearance of your home to someone that doesn't understand the different between cleaning a wooden home and a concrete driveway? Protect the appearance of your home and let the professionals at All Clean Pressure Cleaning get your home looking brand new.
Pressure Washing Done on Your Schedule
At All Clean Pressure Cleaning, your convenience comes first. We understand that your time is valuable. That's why our team of experts will work with you to find a time that works around your schedule. In addition to our flexible hours, we utilize some of the most advanced cleaning equipment in the industry. This helps us to not only ensure that we deliver immaculate results, but we can also do it in half the time it takes other companies. Our cleaning solutions are all environmentally friendly and tough on stains, while still being easy on the finish of your home.
Protect the Exterior of Your Home
Chemicals and corrosion are constantly trying to eat away at the outside of your home, and mold is always trying to climb up the side of your house into places it shouldn't be. Over time, even the toughest surfaces will start to show wear. Don't let these destroy the beauty of your home, or let harmful oils cause your driveways and sidewalks to crack and crumble. Getting the exterior surfaces of your home cleaned every 6-12 months can help ensure that these destructive materials don't find purchase, and can severely reduce the amount of damage they can cause. Regular cleaning can also help prevent flat surfaces from becoming slippery from build-up and reduce the risk of sliding or falling. Make sure the surfaces of your home stay protected and beautiful by scheduling your pressure washing today.
If you would like to know more about your Newnan pressure washing company then please call 678-877-7440 or complete our online request form.