Atlanta Fence Cleaning Pros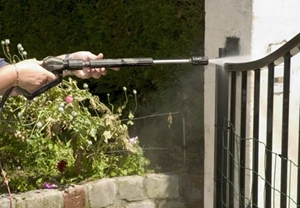 Once construction is completed on your brand new fence it's time to apply the stain. Although we can paint your fence any color you wish, we suggest using real wood stain that accents the surface and gives your wood fence a timeless, authentic look. At All Clean Pressure Cleaning, our Atlanta fence cleaning experts prefer to use exterior stain products of the highest quality that are designed to resist moisture, temperature fluctuations, and sunlight. This provides your wood fence with maximum protection will retaining a beautiful look throughout the year. Our stain products will easily last you 5-7 years before you may need a refinish. Protect your investment with fence cleaning in Atlanta and the surrounding areas from All Clean Pressure Cleaning. We clean all types of fencing, too, not just wood. If you've got a dingy fence, we'll get it clean.
The Right Stain for Your Fence
There are a wide variety of stain products on the market today. If you choose natural wood for your fence, there's a good chance it will be California redwood. This type of wood is extremely popular with homeowners in the Atlanta area and known for it's sturdy makeup and stunning beauty. So it's good to know what type of stain works best. Wood toner is clear and has a slight tone to it in order to allow the natural color of the wood to shine through. You can also choose other levels of stain such as semi-transparent, semi-solids, and, of course, full solids for a thick, rich finish that really stands out. It's important to remember that the time of stain you use, combined with the natural wood, will ultimately determine what your fence looks like.
Professional Fence Cleaning in Atlanta
Before you stain your fence, it's a good idea to have it cleaned first. A professional fence cleaning in Atlanta will remove all the dirt, grime, mold, and other elements from your fence, giving it a bright new appearance. Our Atlanta pressure washing pros use a softwashing technique in order to clean the wood without damaging the finish whatsoever. You get the results you're looking for while preserving the wood surface. At All Clean Pressure Cleaning, we can clean your fence in a fraction of the time that it takes to do it yourself in a manner that is dependable and affordable.
Hire a Pressure Washing Professional for the Job
Although it's tempting to perform a DIY project for cleaning your fence, there are numerous issues with the wood, and also selected methods that professionals use that give you the results you are actually looking for. Sure, you may save a little money on the front end, but rarely does a DIY stain job yield any real satisfaction. With several years of combined pressure cleaning experience, the professionals at All Clean Pressure Cleaning can perform the job in less than half the time, while giving your wood fence an eye-popping finish with amazing results! Best of all, our service is surprisingly affordable. You'll love your new fence!
Photos of Fence Cleaning in Atlanta
Need Your Old Fence Refinished?
One of the toughest and most exhausting jobs in your home is refinishing your fence. Due to it's vertical positioning and extended location in the yard, it's tough to perform the entire job start to finish. Leave it to the experts at All Clean Pressure Cleaning to refinish your old fence. Our Atlanta pressure washing company combines extensive experience with state of the art modern equipment and technology in order to complete every refinishing job in a manner that is efficient with absolute care and precision. We can bring your old fence back to life and revitalize any old fence surface. A brand new fence renovation will add property value to your home and improve your curb appeal!
If you are looking for an Atlanta fence cleaning professional, please call 678-877-7440 or complete our online request form.