Tyrone Pressure Washing Company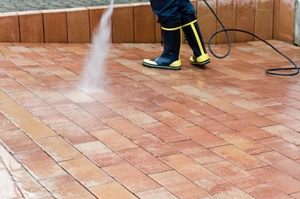 Since 2005 the Tyrone pressure washing pros at All Clean Pressure Cleaning Service have been providing pressure cleaning and soft washing solutions for homeowners throughout Tyrone, GA and the surrounding areas. We offer a wide array of house washing and improvement services that cover both your home interior and exterior. From decks and fences, to driveways, roofing, vinyl siding, windows, and so much more, we do it all for you. We offer a unique method of pressure washing in Tyrone, GA that adjusts to any surface and cleans it without bringing any damage to it whatsoever. Our eco-friendly solutions will remove all dirt and grime from any surface and have it looking amazing once again.
Advanced Home Pressure Washing in Tyrone
At All Clean Pressure Cleaning Service we pride ourselves in being able to deliver high-end pressure cleaning in Tyrone for all residential properties no matter how small or large the job is. Utilizing top of the line equipment and tools, our experienced Tyrone pressure cleaning professionals can tackle tough stains, oils, molds, and dirt in order to fully restore any surface you need cleaned. The proper gear, we can safely get to any area and do the work necessary to produce the type of results you're looking for. Don't let time and the elements turn your beautiful property into an eyesore. Call our pressure washing company today, and let us do your pressure cleaning for you.
Superior Roof Cleaning in Tyrone, GA
Keep your roof looking fantastic all year long with routine roof cleaning in Tyrone, GA from All Cleaning Pressure Cleaning. A clean roof lasts much longer than a dirty roof and will provide ultimate protection for your everything and everyone inside your home. Mold, dirt, debris, and rainwater stains can eat away at your roof compromising it's durable structure and weakening it from outside in. By removing stains and mold from the roof, you will ensure that it will hold up year after year and shield your home from the outside elements when you need it the most. Our roof cleaners in Tyrone will be happy to help you keep your roof in great shape with our roof cleaning service. Call us today to schedule service with our Tyrone roof cleaning team.
Interior & Exterior Painting
At All Clean Pressure Cleaning Service we do more than just clean. We also offer revitalization through our interior and exterior painting services. Whether you're wanting your entire home's exterior painted or are looking to renovate any room inside the house, we can help you design the home you've always wanted. Our painting service is comprehensive. This means that we take care of every step along the way. We remove the old paint, completely sand down the surface, repair any damaged areas, add the primer, and, finally a fresh new coat of paint. When the job is done, you'll how great your new paint job looks. Give your home curb appeal with a new paint job today from our professionals for interior and exterior painting in Tyrone, GA!
If you are looking for a reliable Tyrone pressure washing company then please call 678-877-7440 or complete our online request form.