Expert Pressure Washing in Senoia, GA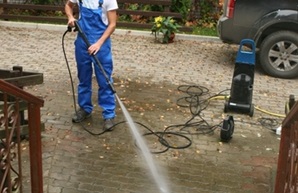 All Clean Pressure Cleaning Service is the Senoia pressure washing company locals turn to, time and time again, to get a superior clean for their home's exterior surfaces. For over a decade we have provided superior cleaning services for homeowners in Senoia and the surrounding areas. We offer fast service, dependable, work and affordable rates for all of our pressure cleaning services that stay within your budget. Our pressure washing company has built a solid reputation as an agency for pressure cleaning in Senoia, GA locals can trust for all their exterior washing needs. From decks to roofs, we do it all.
You can also count on our team to arrive on time with everything we need to do the job in a manner that brings you absolute satisfaction. Contact us today, and let us help you with all your projects requiring pressure washing in Senoia, GA.
Senoia Pressure Washing You Can Count On
With All Clean Pressure Cleaning Service you get the advantage of working with seasoned pressure cleaning professionals who have washed hundreds of homes in Senoia, GA. Our team of certified technicians can remove even the toughest stains from any surface, including concrete patios, driveways, wood decks, roofing, and vinyl siding. Our Senoia pressure washing team can adjust the amount of pressure needed so that we can clean the surface without damaging the finish. Our proven soft washing and high pressure cleaning systems will give you the results you're looking for in an efficient and safe manner. We also use environmentally friendly cleaning solutions the lift dirt, grime, oils, and other stubborn spots and totally revitalize your home's exterior.
Safe, Dependable Roof Cleaning in Senoia
Protect one of the greatest assets of your house with a thorough roof cleaning in Senoia, GA. Our roof washing service is comprehensive, meaning every component of your roof is cleaned from one side to the other. Whether it's your gutters, shingles, or other areas, we can clean all dirt, mildew and debris that gathers on your roof over time. A roof that is cleaned at least once every 1-2 years will last much longer and provide maximum protection for everything inside your home.
Roof cleaning in Senoia, GA, when done right, will also greatly improve your curb appeal and keep your home's value high. No matter what type of roof you have, our Senoia roof cleaners can get the job done quickly, professionally, and correctly. Never trust roof cleaning to just any contractor - without the proper experience and equipment, you could find yourself in need of extensive roof repairs down the road! So make the safe choice. Call the professionals at All Clean Pressure Cleaning Service anytime you need roof cleaning in Senoia, GA.
Senoia Window Cleaning: We Clean Windows, Too!
In addition to our other services, we also offer full exterior and interior windows cleaning in Senoia for homes of any size. You can feel confident that with our cleaning service your windows will shine brightly! We remove all spots and stains and are careful not to leave any smudges behind. When the job is done your windows will be perfect both inside and out. Our Senoia window cleaning experts can clean all types of windows including double and and triple pane windows. Do you have a two or three story house? That's no problem for our team of professionals. We have all equipment necessary to clean all homes large and small.
If you are looking for a reliable Senoia pressure washing company then please call 678-877-7440 or complete our online request form.