Residential Pressure Cleaning in Atlanta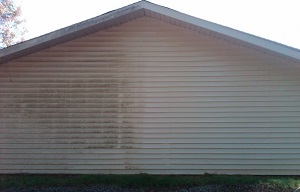 Are you looking to wash your home exterior? Contact the Atlanta pressure cleaning team at All Clean Pressure Cleaning Service. We help homeowners throughout the Atlanta area restore their exterior property and get it to looking like new once again. We have a state of the art system that allows us to custom clean any finish no matter how tough or delicate without bringing any damage to the surface. Our entire team of Atlanta pressure washing professionals are highly trained and experienced in all types of residential pressure cleaning jobs. So no matter what you need cleaned, we can deliver the results you're looking for. We are fully licensed and Georgia certified specifically in this type of house washing business. So if you want the best to work on your home exterior, contact us today!
Pressure Cleaning All Types of Surfaces
Not all surfaces are the same. So applying the same amount of pressure to every surface will inevitably result in either too much pressure or not enough. Only an experienced Atlanta house washing professional knows the right amount of water to apply to any surface in order to get the job done while preserving both the finish and the surface material. We do all surfaces including concrete, wood, vinyl siding, roofs, outer walls, and so much more. Protect your property today with a professional pressure washing in Atlanta from All Clean Pressure Cleaning Service. Let our experts give any surface around your home a fresh, clean look! From driveways to windows to roofs, and everything in between, we have the skills, solutions, and equipment to clean every surface safely and effectively.
Power Washing Done Fast!
One of the great benefits of hiring All Clean Pressure Cleaning Service to wash your property's exterior is that we can do it in half the time that it takes other companies. We provide flexible hours in order to work around your schedule. We utilize the most advanced house washing equipment in the industry today which allows us to perform every job in an efficient manner. And you still get the same professional clean results that you'd expect from an experienced pressure washing company in Atlanta. All of our cleaning solutions are environmentally friendly and designed to lift even the toughest stains without corroding the finish.
Protect Your Home Exterior with Pressure Cleaning in Atlanta
Over time corrosion, heavy chemicals, molds, and other types of destructive materials can eat away at even the toughest surfaces. Harsh oils can easily cause your concrete driveway, walkways, or sidewalk to break down and begin cracking and crumbling along the edges. Mold can easily creep up the side of your buildings walls. Cleaning your property every 6-12 months can reduce the amount of damage that both natural and man-made elements can cause. On flat surfaces it reduces the risk of sliding or falling due to slippery surfaces. Give your concrete, wood, or vinyl surface longer life with a brand new pressure cleaning today.
Photos of Pressure Cleaning in Atlanta
If you are looking for professional pressure cleaning in Atlanta, please call 678-877-7440 or complete our online request form.