Atlanta Deck Cleaning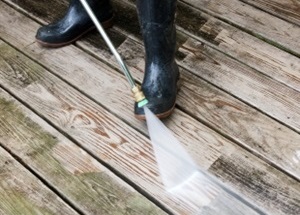 One of the greatest investments you can make to your home is the addition of a new deck. A well constructed deck will last many years and provide memories for your family and friends. Even the most well designed decks, however, need ongoing maintenance and cleaning in order to retain their beautiful finish. With a professional Atlanta deck cleaning from All Clean Pressure Cleaning you can get a complete deck overhaul, while preserving the appearance of your finish. We offer comprehensive pressure washing in Atlanta and the surrounding areas, and solutions for all deck types and sizes.
Taking Care of Your Deck
Professional deck cleaning in Atlanta preserves your wooden deck by removing harmful elements that tarnish your deck's appearance. This kind of grime can eat away at the materials of your deck, weakening the hardwood over time. Using a unique softwashing method combined with environmentally friendly detergents, our Atlanta deck cleaning pros can totally remove all mold, algae and other stains from your deck and give it a brand new appearance once again. Our team of technicians are highly trained and certified to wash any deck and remove all types of tough stains. We use the right amount of water pressure that doesn't cut through or leave any damaging marks.
Atlanta Deck Cleaning Pros
We provide professional deck washing services for both residential and commercial properties in Atlanta and the surrounding North Central Georgia area. If you have a custom built deck for your restaurant, coffee shop or other type of business we provide the same exceptional results as we do with residential properties. When it comes to business, your professional image is as much a selling point as everything else in your company. We can restore your deck and give it a beautiful finish that is sure to leave a first and lasting impression your customers and keep them coming back. Our deck cleaners have flexible scheduling that allows you to get your deck cleaned without disrupting your business hours.
Photos of Our Deck Cleaning in Atlanta
Atlanta Deck Cleaning You Can Count On
There are many benefits to hiring All Clean Pressure Cleaning as your go-to Atlanta pressure washing company. We have built a reputation as a first rate cleaning company that provides the highest level of satisfaction. Our deck cleaning service is prompt, efficient and dependable. We give you the kind of results that you would expect from an industry leader. Our service is affordable and stays well within your budget. The next time you're considering cleaning your own deck consider the time and money that it will take, and then compare our service. With a professional you'll come out ahead every time. Contact us today and let us schedule an on-site business to assess your needs and give you superior service that is second to none in Atlanta!
If you are looking for professional deck cleaning in Atlanta, please call 678-877-7440 or complete our online request form.