High Quality Residential Pressure Washing In Tyrone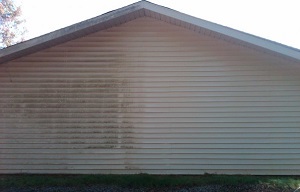 Are you looking for a high quality cleaning for the exterior of your Tyrone area home to get it looking like new once more? Having a clean home exterior isn't just great for improving the overall look of your home, but it can also work to increase its value, its curb appeal, and even extend the lifespan of your exterior materials as well. Here at All Clean Pressure Cleaning Service, our team of Tyrone pressure washing professionals make it our mission to help local Tyrone homeowners restore the beauty of their property's exterior surfaces to get them looking like new once again. Our team of experienced professionals utilize some of the most advanced methods and technologies in the business to make sure that you always receive the high quality clean you need to keep your home looking and functioning its best. Give our team of professionals a call today and let us help devise a customized plan of action to give the exterior of your home the best clean it's ever had.
Here at All Clean Pressure Cleaning Service, each and every one of our Tyrone pressure washing specialists are fully licensed and certified in this line of work, and we have the experience and training to ensure that you receive nothing but the best when it comes to your pressure washing service. If you have any questions about our full line of high quality pressure washing services, or if you would like to schedule an appointment for consultation with one of our skilled specialists, give us a call today. Our team of experts are always standing by and would be more than happy to assist you in any way we can.
Pressure Washing For All Surfaces
When it comes to home exteriors, there are a wide variety of different surface types out there, and each one requires a little bit of special care in its cleaning that is different than others. When you make the decision to hire a pressure washing professional to clean the exterior of your home, you want to be sure that they understand the different approaches that need to be taken to make sure that different materials get a high quality clean without causing any damage to the surface materials themselves. Here at All Clean Pressure Cleaning Service, our team of experienced Tyrone pressure washing specialists know how to get the job done right, giving you a high quality cleaning without damaging the finish or the surface materials of your home.
Protecting Your Home's Exterior With Pressure Washing
There are a number of destructive materials that can build up on your home's exterior over time, like corrosion, mold, mildew, and even chemicals or oils, and all of these can cause serious damage to your home's exterior surfaces over time. Taking the time to make sure that your home gets a professional cleaning at least once every year is a great way to protect the exterior materials of your home and keep them safe from damage.
If you are looking for a pressure washing professional in Tyrone, give us a call today at 678-877-7440 or complete our online request form.