Pressure Washing in Senoia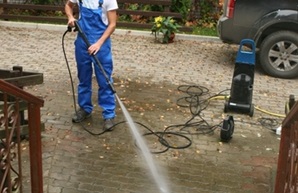 Want to completely transform the appearance of the exterior of your home without taking on a major renovation project? Then sounds like what you need is pressure washing, but not just any pressure cleaning. You need the type of workmanship and results that our team of pros at All Clean Pressure Cleaning Service can provide.
Many homeowners know that they need this done before getting their house painted. However, did you know this can so vastly improve the appearance of your exterior that you may not even need painting work completed? The level of deep clean our service work provides can totally modify the look of the outside of your house. Not to mention, this also helps to protect the exterior, as well. Safeguard your home, keep it looking its best and even increase the property value, with our professional deep clean. We look forward to working with you and helping to ensure that you get the clean and sparkling exterior that you had hoped for.
Senoia Pressure Washing Experts
If you have not yet called us to get your house washing service scheduled, here are some things to think about:
Over time, your house begins to look grungy and rundown. The problem is that it is usually gradual enough to not see it happen all at once. This means you are usually unaware of just how dirty your exterior is and just how bad it looks. The good news is that it is usually nothing a good Senoia Pressure Washing can't handle.
This is not the type of project that should be DIY, even though you can rent a power washer at your local branch of a big box home improvement store. They usually lack the power to get a deep clean, or are too powerful and should only be handled by trained and experienced experts. Keep in mind that high velocity water is still potentially dangerous and harmful. You can easily cause damage to your home, or bodily harm to yourself or someone around you.
An industry expert knows which surfaces are appropriate for pressure washing and which are not, and works accordingly. Some companies try a one-size-fits-all approach to exterior cleaning, which can end up causing damage to surfaces like your roofing. Make it a point to partner only with a company that takes your various surfaces into consideration.
A clean home does increase the property value. In fact, sellers can hike up their asking price by as much as $15k following a professional pressure washing. This doesn't just make it look better, although that certainly helps. It also makes the clean and healthy exterior add value to your home.
Sure, mold, mildew, pollen and even critters like spiders are stuck to the outside of your house, but that won't effect the inside, right? Wrong! Eventually these unwanted exterior pollutants find their way into your household. This can trigger allergies, asthma or even lead to bites from potentially harmful pests.
Finest Pressure Cleaning Company in Senoia
In recent years, local property values have drastically increased, imagine what taking immaculate care of your home can add to that. The best part is that this is work you don't even have to do, all you have to do is contact All Clean Pressure Cleaning Service to take care of it for you. We have been addressing the exterior house washing service needs of our clients for well over a decade now. Simply put, our dedication to customer satisfaction is what has helped make us the local leading service provider for pressure washing work. We look forward to teaming up with you and helping enhance the overall look of your home's exterior, with this service. This area has become part of the new Hollywood or Hollywood of the South. Make sure that the outside of your home looks camera-ready, even if it's not going to end up on the big screen.
We offer a variety of exterior cleaning services, for a variety of types of exterior materials and surfaces. Don't settle for less than the best, when it comes to getting your house professionally cleaned.
If you are looking for professional pressure cleaning in Senoia, please call 678-877-7440 or complete our online request form.