Pressure Washing in Sharpsburg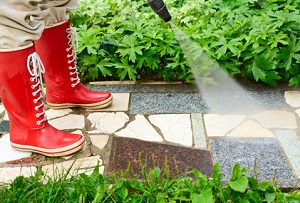 Making the choice to get proactive about getting pressure washing is going to provide you with countless benefits. An even smarter move is to make certain that you partner with the experts here at All Clean Pressure Cleaning Service so that you can get the best results possible. For well over a decade now, we have been the company locals know to depend on for exterior cleaning service work.
This is the type of work that is best handled by our industry experts, masterfully trained to use high pressure cleaning in order to get superior results. What better way to get a deep clean than with high pressured water. That means little to no cleaning agents introduced into the process, making it is pure and simple as could be.
This is not to be confused with the type of machinery you can rent from your local home improvement store in order to make it a DIY task. Higher powered washers should only be used by trained and experienced professionals. Yet, anything less is not going to provide you with the level of deep clean that you need.
Working With Pressure Washing Experts
If you are not already familiar with the benefits that you can expect from getting professional Sharpsburg power washing, here are a few things to consider:
Cleaning your exterior is about creating a healthier environment, all around. Removing dirt, mold spores and other contaminants from the exterior of your home helps to also enhance the air quality inside your home.
Of course, it also serves to beautify your home. No matter how visually aesthetically pleasing your house is, mildew and other dirt will steal the show. Don't let these unwanted substances become the focal point of your home's exterior.
If you are preparing to have your home professionally painted, it all starts with a pressure wash. It is vital for the success of your painting job to begin with a fresh and clean slate, not an exterior caked with grime.
Cleaning your exterior will also help reduce the likelihood of needing repairs, or at least cut back on the frequency. Repairs are often the result of mold or other contaminants starting to weaken certain exterior materials. From your siding to your decking, getting professional cleaning will enhance the performance and longevity.
So why hire a pro? A professional pressure washing service knows how to use a high powered system that provides better results. Yet, what you need to realize is that these machines can actually pose a safety threat.
Do not make the mistake of risking injury when you could simply leave this type of job to an industry expert. Let us take care of this service for you, ensuring both safe conditions and quality results. We look forward to working with you and showing you, in person, how we have earned the impeccable name we have built for ourselves.
Protect the Exterior of Your Sharpsburg Home with Pressure Washing
Let All Clean Pressure Cleaning Service provide you with the services you need and the results that you deserve. The job that we will complete for you will leave your exterior surfaces looking as good as new, if not better. Plus, you can feel good about making things healthier for yourself, and your loved ones.
Pressure cleaning is an ideal tactic to use when it comes to cleaning a number of surfaces. Some examples of this include driveways, awnings, fences, windows, siding, swimming pools and more. Only a trained and experienced expert knows how to successfully make the transition from one surface to another, adjusting the pressure and avoiding property damage or injury. Getting your home power washed can even help improve the overall property value of your place. The main goal is to get effective and efficient cleaning and service, at a reasonable rate. Do not settle for less than the best, when it comes to the level of cleanliness you get for the outside of your home.
If you are looking for a professional Sharpsburg, GA pressure washing company then please call 678-877-7440 or complete our online request form.