Quality Pressure Washing in Peachtree City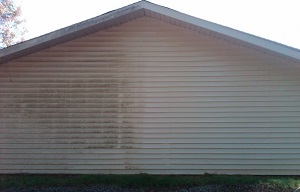 Is the outside of your home starting to look a little worse for wear? The experts at All Clean Pressure Cleaning are here to help. Our customers in Peachtree City can be sure that when they call us for their pressure washing, their house will look brand new again by the time we're finished. Our team of professionals are highly-trained and use some of the most advanced equipment and techniques out there to ensure that the outside of your home looks as clean as the day the paint first went on. No matter how tough or delicate the outside of your home is, our team will deliver a professional quality pressure washing, satisfaction guaranteed. Our experts are fully licensed and ready to make the outside of your home shine, so get your estimate today.
Different Materials, Different Techniques
There is a big difference between cleaning wood paneling and concrete, and our team of experts in Peachtree City understand what those differences are. Our pros know the different amounts of pressure required by different materials that will leave the outside of your house spotless, without inflicting any damage on the surface materials themselves. The finish on the outside of your home is important and we understand that. Don't go with a company who will wash away the finish of your home along with everything else. Give All Clean Pressure Cleaning a call today and see why we're the #1 pressure cleaning service in Peachtree City.
Pressure Washing on Your Schedule, Not Ours
There never seems to be enough time in the day to get everything done. The professionals at All Clean Pressure Cleaning understand how valuable your time is, and we make every effort to save you as much of it as possible. Our team of experts will work to fit your pressure washing into your schedule, not ours. All of our solutions are environmentally friendly, and we utilize the most advanced cleaning equipment in the industry today. This helps ensure that not only will your cleaning be up to the highest industry standards, but we are also able to do it in half the time other companies would require, letting you get on with your day.
Protecting the Integrity of Your Home
Over time, corrosion and various chemicals can form on the outside of your home and these can jeopardize the integrity of your home by eating away at the surfaces. Mold and algae can also take up residence on the outside of your house, and when these begin to climb and find a way inside, they can be very expensive to remove. Getting the outside of your home cleaned every 6-12 months can prevent these destructive materials from doing damage and becoming more of a headache than they already are. Don't let these invasive elements compromise the beauty of your home, schedule your pressure washing in Peachtree City today.
If you would like to know more about your Peachtree pressure washing company then please call 678-877-7440 or complete our online request form.