4 Benefits of Having Your Atlanta Roof Cleaned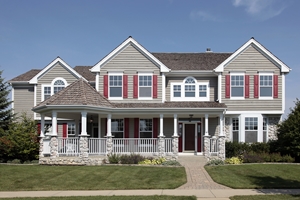 As your home gets older , you'll begin to notice clear signs of wear and tear. One of the first indicators is just how dirty your roof. Your roof provides the greatest amount of protection of any component in your home. It, therefore, takes the brunt end of all the outside elements. Branches, leaves, debris, rainwater, dirt, and grime all bombard your roof causing it's natural beauty to be hidden beneath the mess. A clean roof, however, gives you numerous benefits that will pay dividends down the road as your take care of your home. That's why there are so many benefits to investing in roof cleaning in Atlanta, GA.
Give Your Roof Longevity
The average roof in Atlanta will last between 20 to 25 years. This is assuming that you are taking care of your roof, and providing appropriate maintenance for it year after year such as getting it cleaned professionally. Dirt, grime and mold, can cause a roof to deteriorate which will shorten it's life and cause you to have needles repairs prematurely. Certain conditions such as shade and environmental conditions will ultimately determine how often you need your roof cleaned, but it is recommended at least once every year or two. Mold can be treated with solutions that will kill it and keep it from spreading.
Protect Your Investment
Professional Atlanta roof cleaning is about more than just revitalizing it's look. While keeping an attractive home is always preferred, a deeper issue is property value. Whether you ever sell your house or not, it's always a good to keep it's market value as high as possible regardless of the economy. Both you and your neighbors benefit from healthy market values. Pressure washing your roof keeps it in excellent condition and gives your entire home the protection it needs. When harsh weather hits your home, you want peace of mind knowing that your roof will shield you from high winds and harsh storms.
An Affordable Option
One of the myths of hiring a professional Atlanta pressure washing company to clean your roof is that it's too expensive. Although a DIY project is tempting, you'll find that getting the results you want is generally disappointing and you've wasted time and money. For a slightly higher investment, you can choose to have your roof pressure washed in half the time by professionals who have both the equipment and the expertise to clean your roof in a manner that brings ultimate satisfaction. You'll notice a huge difference and a cleaner roof. Dollar for dollar, professional cleaning is a much better investment.
Safety Is Key
Not only is DIY pressure cleaning ineffective, it's also extremely hazardous and can result in injury or disaster. Trained Atlanta roof cleaners use safety equipment that allows them to do their job with the fear of getting hurt. A pressure cleaning company that has worked on hundreds of homes knows the risks involved and creates a safe environment before every starting the job. Don't chances with your family. Hire a seasoned professional today for roof cleaning in Atlanta, GA.
If you are looking for an Atlanta roof cleaning expert, then please call 678-877-7440 or complete our online request form.