How To Clean & Protect Your Patio Pavers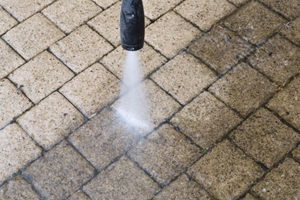 Pavers are one of the most popular materials to use for patios and walkways because they are more affordable and easier to install than other options. However, this type of patio does need a little extra care and regular cleaning to keep it looking nice.
All Clean Pressure Cleaning Service is an Atlanta specialist in paver cleaning. Our pressure cleaning contractors want to share a few tips with you on how to clean patio pavers and keep them beautiful for years to come. If you need professional help in our service areas, give us a call!
Why Pavers Turn Black & How To Clean It Off
Mold and mildew will turn your beautiful paver patio into an ugly black mess. The blackened pavers will most often be located in shaded areas of your patio or porch where the surface doesn't quickly dry. This problem is often located near a house where there is no sunshine.
Unfortunately, it will keep coming back after you clean the pavers if you use the wrong cleaning methods.
Let our professionals tell you that using bleach and water is not the right cleaning method. It not only eats away at the limestone in the pavers, it is only a temporary fix. Instead, hire a professional paver cleaning service who uses:
A non-caustic, non-toxic, non-acidic cleaning solution
Algaecide & fungicide application to kill & keep mold and mildew away
Commercial-grade paver sealing solutions
Cleaning Moss Off Pavers
Getting moss off pavers is a little like trying to pull weeds directly out of stone. Sometimes we have to get down and dirty with a stiff deck brush to remove moss after pressure cleaning.
The weeds growing in the sand of the paver joints will also need to be cleaned out or else they can cause paver shifting. After weeding your patio, you can stop any regrowth of moss and weeds if you seal your paver patio and keep up with the resealing.
Sealing Pavers To Keep Them Protected
You probably aren't aware that pavers need to be resealed every few years. This is the most common reason why pavers get so dirty and black looking. How often to reapply sealant depends on the product you use.
Professional pressure washing contractors like us most often use a commercial quality paver sealer for the longest lasting results.
Seal pavers every 1 to 3 years depending on the product
Use a sealer with a joint stabilizer to keep sand intact
If you are looking for an Atlanta paver cleaning and sealing professional, please call 678-877-7440 or complete our online request form.