House Washing In Atlanta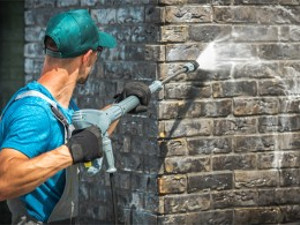 House washing serves two major purposes: to enhance the visual appeal of your home and to prevent damage to your home's exterior. Atlanta homeowners may take on house washing themselves, but hiring an experienced pressure washing company like All Clean Pressure Cleaning Service to perform this task will ensure that your house's exterior surfaces are absolutely spotless and that the products and equipment used in the cleaning process are safe to use for the materials on your home.
The Importance of Regular House Washing
Routine house washing is essential to the preservation of your Atlanta home's exterior, and hiring the skilled team at All Clean Pressure Cleaning Service for pressure washing services will provide your home and household with numerous benefits. For instance, mold and mildew growth on your home can exacerbate allergy and asthma symptoms, and staining from algae growth can permanently damage your house's exterior. By washing your house consistently, your household will experience less negative health effects, and you'll avoid costly repairs. Additionally, maintaining a clean exterior will discourage the presence of rodents, insects, and other pests around your house.
If you're interested in house washing services, hire our pressure washing experts to improve your Atlanta home's exterior. When you reach out to us for exterior cleaning services, we'll give your house the special care and treatment that we would give to our own homes.
Signs That You Should Schedule House Washing Services
Your home endures frequent storms resulting in the accumulation of spores and debris
Your home is surrounded by trees that produce a lot of sap
Your home is susceptible to algae, mold, and mildew growth caused by frequent rain and high humidity levels
Your home resides near a dirt road
You haven't cleaned your home's exterior for over a year
If you're looking for house washing services in Atlanta, call All Clean Pressure Washing at 678-877-7440 or complete our online request form.