Roof Cleaning Service In Atlanta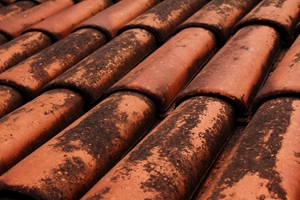 All Clean Pressure Cleaning Service offers professional roof cleaning service in Atlanta. Our Atlanta pressure washing company is available for all types of exterior cleaning services. Roof cleaning can be done seasonally to protect the shingles and keep your home looking its best. We consistently deliver the highest quality roof cleaning service which is guaranteed to completely satisfy you.
Regular roof cleaning is a must in order for a roof to last as long as possible. Years of grime and seasonal debris build up is destructive to the roof shingles. Roof algae is a common problem that has to be resolved or the roof will suffer. However, this part of home maintenance is difficult and cumbersome, so it often gets put off. This is why we are regularly called to complete the work. We are very adept at helping homeowners keep their roofs and other exterior surfaces clean and pristine.
Whenever the exterior of your home is dirty or unsightly, you can hire our professionals. With our professional roof cleaning service, this task can easily be done. We offer free roof cleaning estimates in Atlanta, so give us the opportunity to meet with you.
100% Satisfaction Guarantee
Eco-Friendly Roof Cleaning
Free Estimates
Serving Atlanta Since 2005
Quality Service At Competitive Rates
Eco-Friendly Roof Cleaning For All Roof Types
We use eco-friendly roof cleaning techniques that don't damage your roof shingles. Each exterior surface material is different in critical ways, so different cleaning methods may need to be used. Whether your shingles are made of metal, asphalt, wood shake, composite materials, tile, or anything else, we know how to get them clean. All Clean Pressure Cleaning Service uses the perfect methods to deep-clean any exterior surface. We will use the most customized cleaning agents according to the surfaces involved. In the end, every stain and blackened portion of your roof will look absolutely fantastic.
Pressure Washing & Softwashing For Roofs
Roof cleaning can be done by using various techniques which are appropriate to the surface type involved. For instance, a metal roof can safely be cleaned with water under higher pressure while asphalt shingles and shaker wood shingles need a softer approach. Pressure washing technicians are trained to clean roofs safely. There are different techniques, different pressure settings, and different cleaning solutions used for each type of surface we are cleaning.
This aspect of roof cleaning is what sets professional service apart from DIY pressure washing. It is all too easy to damage the exterior materials of your home. Homeowners are often surprised to discover that the siding or roofing material warranty is voided because there was damage done during cleaning. At All Clean Pressure Cleaning Service, we have the know-how and tools to clean roofs without damaging them.
Eco-Friendly Cleaning Solutions
Softwashing Techniques
Full Power Pressure Washing
Safe & Effective Roof Cleaning
Black Algae Stain Removal
The most common roof stain is caused by black algae. It most commonly thrives on asphalt roof shingles because it uses asphalt as food. Black algae produces a byproduct on the shingles which appear to be dark black stains. It may seem like the stains are destructive, but the actual destruction occurs when the algae eats the asphalt. It takes a while for the shingle to get destroyed, but the damage is done all along the way. Eventually, the shingles start cracking and separating due to the loss of structural stability.
Our roof cleaning service in Atlanta removes the black algae stains from the shingle surface without damaging the shingles. It's important to remove the stains as soon as you notice them or the problem will eventually destroy the shingles. We use a specialized cleaning solution to kill and clean roof algae that is very effective. After our efforts, you will notice that the color and beauty of the roof is completely restored. Contact us today to schedule your free estimate. We would be glad to answer your questions!
Algae Removal
Moss Removal
Mildew Removal
Lichen Removal
Stain Removal
If you would like more information about our Roof Cleaning Services in Atlanta, please call All Clean Pressure Cleaning Service at 678-877-7440 or complete our online request form.