Fairburn, GA Pressure Washing Services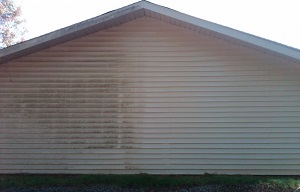 If you need pressure washing service in Fairburn, give our pros a call. At All Clean Pressure Cleaning, our technicians are licensed and certified specialists in exterior cleaning service. We use state-of-the art commercial-grade pressure washers and the most effective and safe methods to get your home looking sharp.
Is your siding looking dirty or the rooftop stained? Do the windows have build-up on them? How does your concrete driveway and patio or entryway look? If it's time to call in a Fairburn pressure washing service, we would love to be your go-to source for professional service.
Safe Pressure Washing Service
No matter the surface we are working with, our technicians understand how to get them safely clean. It is far too easy to damage the roof shingles, vinyl siding, Hardie Board siding, wood, and concrete with unsafe pressure washing methods. We use environmentally friendly cleaning solutions and special techniques to get out the toughest of set-in stains.
Roof Algae Cleaning Service
Algae can take hold of your rooftop and create black streaks and stains. It can also take over your home's siding, fences, and other surfaces. Is your fence or siding turning green?
It's important to get the algae off these surfaces because it uses the building materials as food. That means your roof shingles, wood fences, and home siding are decaying quicker than they should. Regular maintenance by a professional pressure washing service will ensure they last longer.
Try Pressure Washing On Decks & Fences Before Refinishing
Many homeowners think that the gray and dull wood on the deck or fence has to be sanded down and refinished in order to revitalize the appearance. What they don't know is that many times a good pressure washing will completely restore the beauty of the wood. However, it's important that the job be done safely so as not to damage the deck or fence.
Why Choose Our Team For Pressure Washing Service In Fairburn?
Our Atlanta pressure washing company has been providing exterior cleaning services in Fairburn and other communities since 2005. We have spent a lot of time training on how to safely removal all kinds of grime, dirt, and stains from various surface materials.
Our company is locally owned and operated. We work hard to provide homeowners in the community with exceptional service on every job. When we are able to make our customers happy with exceptional workmanship, it makes us proud and honored when they call us back. We would love to develop that sort of relationship with you too. Call today for an estimate. You won't be disappointed!
If you are looking for a professional Fairburn, GA pressure washing company then please call 678-877-7440 or complete our online request form.