Residential Pressure Cleaning In Carrollton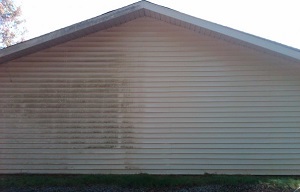 If you are looking for a great way to keep the exterior of your Carrollton home looking its best, investing in a high quality pressure cleaning might be just the option you've been searching for. Here at All Clean Pressure Cleaning Service, our team of professionals are dedicated to helping homeowners throughout the Carrollton area restore the exterior of their homes and help get it looking like new once more. We utilize a state of the art system that allows us to deliver an unmatched clean for the exterior of your home that is guaranteed to never damage the surface of the finish of your home, no matter how delicate it might be. Give our team of Carrollton pressure cleaning specialists a call today and let us show you the difference that quality can make when it comes to the cleaning of your home's exterior surfaces.
Here at All Clean Pressure Cleaning Service, each and every one of our Carrollton pressure washing professionals are highly skilled, trained, and experienced in the field, and know what it takes to get the job done. We are experienced in a wide variety of different types of pressure washing jobs, so no matter what surface of your home, how big that surface might be, or how badly it needs to be cleaned, our team of experts are up to the task. Each and every one of our pressure washing specialists are fully certified, so you can rest assured that your home is in good hands. If you have any questions about our full line of high quality pressure washing services, or if you would like to schedule an appointment for consultation, give us a call today. Our team of experts are always standing by and would be more than happy to assist you.
Pressure Cleaning For All Surfaces
Not all surfaces of your home are the same, and therefore, the method of cleaning them is going to be a little bit different at times. When you take the time to hire a pressure washing professional to clean your home, you want to be sure that they are aware of the different cleaning methods that need to be utilized for different surfaces, otherwise you could quickly find yourself with a great deal of damage to your home's exterior. Here at All Clean Pressure Cleaning Service, our team of Carrollton professionals know the different washing methods required by different materials, and can deliver you the high quality clean you need each and every time without damage the finish or the surface materials of your home.
Protecting Your Home's Exterior With Pressure Cleaning In Carrollton
The elements can really start to take a toll on the exterior of your home over time, and without the proper cleaning from time to time, your home's exterior is going to be the one to pay the price. Between corrosion, molds, mildew, and a variety of other chemicals that can accumulate over time, the exterior surfaces of your home can start to get eaten away and begin breaking down. Taking the time to ensure that your property is properly cleaned at least once every year can drastically reduce the amount of damage done to the exterior surfaces of your home. In addition to helping them look their best, having them professionally pressure washed from time to time is also a great way to preserve their lifespan and make sure that you are able to continue to enjoy them for a long time to come.
If you are looking for professional pressure cleaning in Carrollton, give us a call today at 678-877-7440 or complete our online request form.