Pressure Washing Services In Atlanta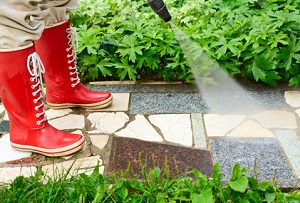 All Clean Pressure Cleaning Service is your go-to source for all types of residential exterior pressure washing services in Atlanta. We service several communities locally and would be happy to help you with large or small jobs. We can tailor our service to meet your exterior pressure washing needs whether you need roof cleaning, driveway cleaning, gutter cleaning, fence cleaning, window cleaning, or a combination of services.
Our pressure washing technicians are trained on commercial-grade pressure washing machines to remove grime and stains deep down on all types of surfaces. We use safe, eco-friendly methods that are highly effective. You will be amazed at the difference we will make for your home's curb appeal.
At All Clean Pressure Cleaning Service, you'll always get a free estimate for pressure washing services in Atlanta. Just call or feel free to submit questions online.
Local Pressure Washing Since 2005
Affordable Residential Pressure Washing
Best Customer Service Available
Quality Products
Expert Techniques on All Surfaces
Quick & Efficient
Safe Stain, Grime, & Debris Removal
Pressure Cleaning Driveways, Sidewalks, Entryways, Porches
Driveways, sidewalks, entryways, and porches are generally made of asphalt, concrete, brick, pavers, or stone. These materials are different porous surfaces that require professional pressure washing.
No matter the material or which areas need to be pressure washed, our pros at All Clean Pressure Cleaning Service will get the job done safely and effectively.
Concrete stains can be very stubborn. Many may try to use pressure cleaning that is at too high of a setting. This can destroy the surface of the concrete. When this happens, the concrete gets pitted and wears much faster.
Don't find yourself a few years later dealing with cracking or crumbling concrete because the surface was damaged by an amateur. Call our expert pressure washing contractors instead to keep your home looking great. Our eco-friendly cleaning agents and methods are very safe and effective.
Rust Stain Removal
Oil Leak Stain Removal
Blackened Concrete Renewal
Algae Removal
Stains From Beverages or Food Removed
Ground In Foot Traffic Cleaning
Fence Cleaning
Residential Roof Cleaning
Are there black stains on your roof or has the color of the shingles darkened? Are there areas where leaves, branches, and debris gathers? Removing this buildup will renew the color of the shingles and help to keep the roof in good shape.
It's important to keep leaf debris and dirt off your rooftop. These substances only work to decay the roof shingles and other materials. When leaves and grime build up on the shingles, the roof is more vulnerable to algae, mildew, and moss growth. Roof cleaning is an important maintenance task which is best done by pressure washing.
If you need help with roof cleaning, call us. All Clean Pressure Cleaning Service can remove years of roof stains, discoloration, algae, mildew, moss, and debris. Our Atlanta roof cleaning services are safe and eco-friendly, but yet still very effective.
Algae Stains
Roof Mold
Debris Removal
Gutter Cleaning
Window Cleaning
In order for you and your family to enjoy your home to the utmost, it is important for you to keep it well maintained. One of the most difficult maintenance jobs is cleaning windows. Window cleaning often involves troublesome tasks such as using a ladder, carrying tools around, and removing stuck-on window screens. Invariably, there is some bush or pokey object in the way that makes it even harder.
If you would rather have professional help, call All Clean Pressure Cleaning Service and ask us about our professional Atlanta window cleaning service.
Paver Cleaning & Sealing
When the sealant wears off pavers, the concrete material will absorb water and grime. The dirt and debris get ground into the surface and can quickly turn black. Paver cleaning and sealing service will remove the grime stains and reseal the surface for protection. A yearly cleaning and sealing will keep your patio, sidewalks, and other areas beautiful for years to come.
If you would like more information about our Window Cleaning Services in Atlanta, please call All Clean Pressure Cleaning Service at 678-877-7440 or complete our online request form.