The Atlanta Pressure Washing Company to Call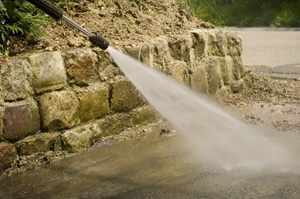 In Atlanta homeowners turn to All Clean Pressure Cleaning Service for all their professional pressure cleaning needs. We offer a comprehensive package that includes all types of surfaces around your residential property. From windows and roofing to any type of surface around your home (that includes decks and fences!), our Atlanta pressure washing company does it all. Our pressure washing company also offer cleaning for wood decks and fences, and resealing for pavers. What's more, we offer interior and exterior painting services to ensure you have an easy-to-reach, reliable contractor for all your exterior house washing and refinishing needs. Our pressure washing company in Atlanta is committed to reviatlizing your home and making it look new once again.
Our advanced equipment and expertise in the pressure cleaning field give us the ability to remove even the toughest stains from all surfaces in a manner that is efficet, safe, and affordable. The next time you need your home professionally cleaned, turn to All Clean Pressure Cleaning Service. We'll be happy to take care of your need for pressure washing in Atlanta, GA.
Professional Pressure Washing in Atlanta: the Right Choice
Although it's tempting to pressure clean your own home, it's also time consuming. You rarely get the results you're looking for, either, and wind up wasting a lot of money and effort with a DIY project of this nature. The smart choice is to hire All Clean Pressure Cleaning Service whenever you need pressure cleaning in Atlanta, GA. We've washed hundreds of residential properties throughout the Atlanta area, and we know what it takes to get the job done right no matter what the surface is that needs to be cleaned.
Cleaning tough exterior stains is more than just applying high pressure water. It's about applying the right cleaning solutions and adjusting the right amount of pressure to the right surface without damaging it. You can trust our Atlanta pressure washing experts to use proper methods in order to get you satisfying results every time.
Atlanta Roof Cleaning - We Clean All Roof Types
Whether your roof is made of asphalt shingles, wood, tile, or some type of metal, our Atlanta roof cleaning experts know exactly how to clean it correctly and give your roof a clean that will last. A clean roof will retain it's excellent condition for many years to come, and ensure your home is protected for years to come. You'll be amazed at how great your home looks after our Atlanta roof cleaners get finished. Plus, getting rid of harmful algae and mold will enhance the longevity of your roof.
Our team is careful to clean all roofs in a manner that is safe by using harnesses and other industy equipment that keeps our employees and your family from harm during the roof cleaning process. No matter what type of roof you have, we can remove all stains, mold, algae, and debris with our expert roof cleaning in Atlanta, GA. A newly cleaned roof will give your home great curb appeal and improve your home's value.
Driveway Cleaning in Atlanta, GA
Keep your driveway looking beautiful all year long with a professional pressure washing in Atlanta from All Clean Pressur Cleaning. Over time oil, liquids, and dirt can cause the material in your driveway in Atlanta to break down. This weakens your driveway's hard surface. Our Atlanta driveway cleaning experts use industry-grade cleansers that are designed to lift oil and grime from the surface of your driveway. Hot high pressure water washes it away, and you get a brand new looking driveway free of harsh stains. Don't settle for less than the best for your driveway. Call All Clean Pressure Cleaning Service today, and let our Atlanta pressure washing team help you restore your driveway.
If you are looking for a reliable Atlanta pressure washing company then please call 678-877-7440 or complete our online request form.